Mogolla Chicharrona is a traditional Colombian bread stuffed with crispy pork belly or chicharrón. Theay are delicious for breakfast or afternoon snack with a cup of coffee.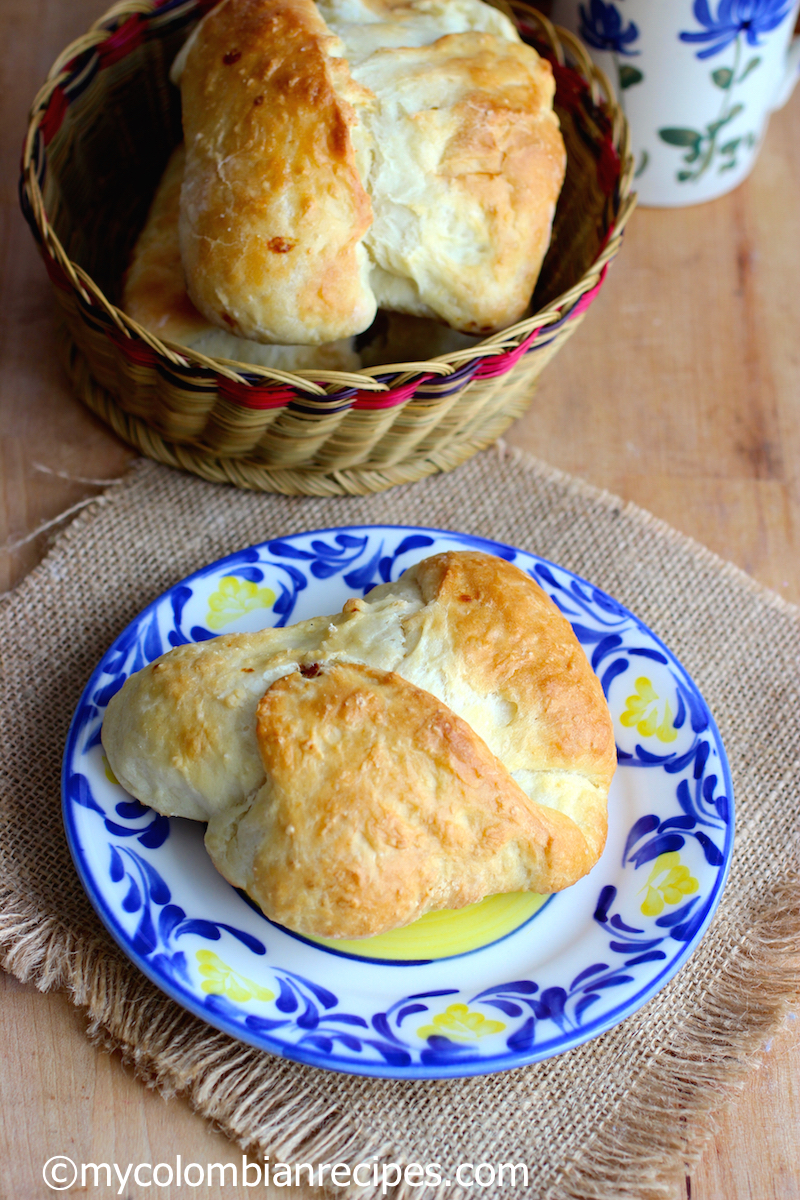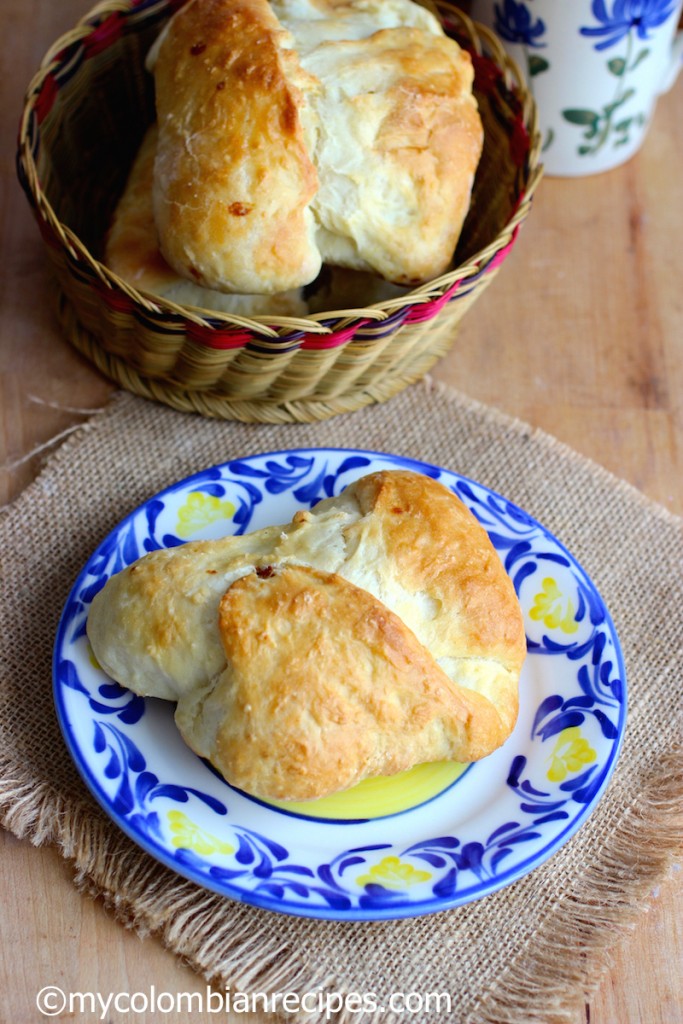 Chances are good if you're from Colombia that you've eaten Mogolla Chicharrona, or at least heard of this traditional bread from the Cundinamarca department.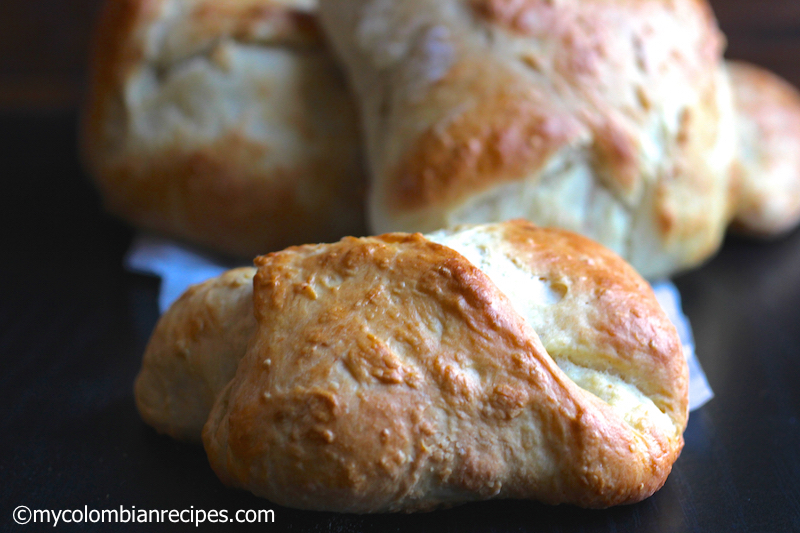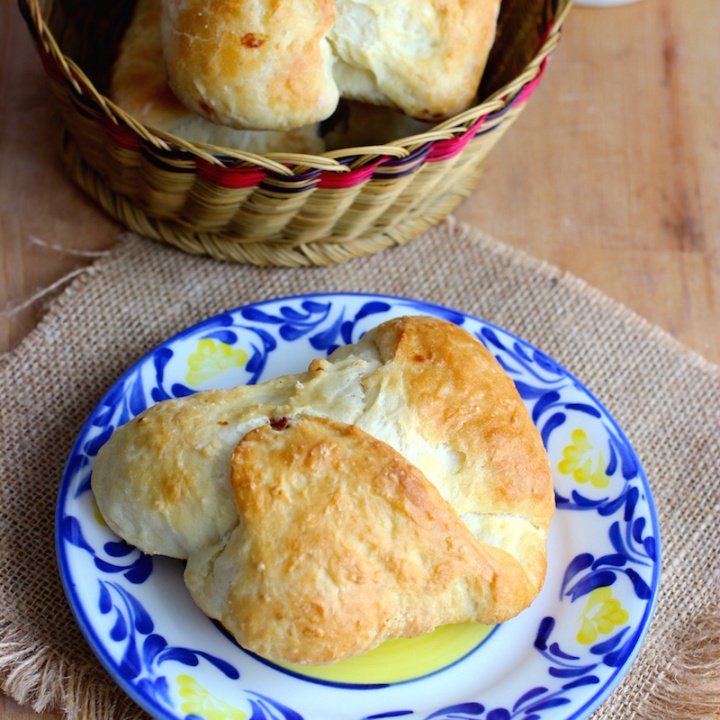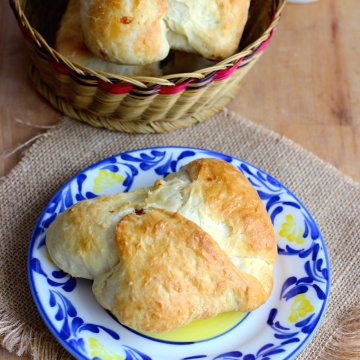 Mogolla Chicharrona (Crispy Pork Belly Stuffed Bread)
Ingredients
1

envelope of yeast

7

oz.

plus 4 tablespoons of warm water

4

cups

of all purpose flour

1

teaspoon

of salt

6

tablespoons

of sugar

½

cup

of unsalted butter

melted

2

large eggs at room temperature

1

beaten egg for the glaze

2

tablespoons

of melted butter for the glaze
Instructions
Pour 4 tablespoons of warm water into a small mixing bowl. The water should be hot, but not so hot that you can't bear to put your fingers in it. Add ½ of the sugar and yeast and stir to dissolve. Wait about ten minutes for the yeast to begin to grow.

In a large mixing bowl add the flour, salt, remaining sugar and the water and yeast mixture and begin mixing. Use your hands for this, as you really get the perfect feel for the consistency of the dough. Add the butter and eggs. Mix well.

Knead the dough on a clean, dry, flat surface. Sprinkle your work surface with a handful of flour, put your dough on top and start kneading. Add bits of flour if necessary to keep the dough from sticking to your hands or surface.

Keep kneading until the dough is ready. This may take 8 to 10 minutes. It will be quite elastic. It should not be too dry, as it should still give and stretch easily without tearing.

Transfer to a lightly oiled bowl, turn once to coat, and cover with plastic wrap. Let rise in a warm place until doubled in bulk, about 2 hours.

Turn the dough out onto a lightly floured work surface and knead for 30 seconds. Cover with a towel and let rest for 10 minutes. Punch the dough down and divide into 9 equal size pieces and let them rest for about 10 minutes.

Roll out into a square and add chicharrón pieces in the center, then close by folding in the four corners to the center to form a filled square shape. Place on a baking sheet lightly greased, spacing evenly. Cover and let rise in a warm place for 20-30 minutes.

Preheat the oven to 400˚ F. Brush the tops of the mogollas with the beaten egg and melted butter. Bake for 15-20 minutes or until the tops are golden brown and the mogollas are baked through. Serve warm.
Nutrition
Calories:
1437
kcal
Carbohydrates:
114
g
Protein:
28
g
Fat:
96
g
Saturated Fat:
42
g
Polyunsaturated Fat:
9
g
Monounsaturated Fat:
38
g
Trans Fat:
1
g
Cholesterol:
292
mg
Sodium:
885
mg
Potassium:
399
mg
Fiber:
3
g
Sugar:
18
g
Vitamin A:
1082
IU
Vitamin C:
0.4
mg
Calcium:
53
mg
Iron:
7
mg

Mogolla Chicharrona is a small bread stuffed with small pieces of crispy pork belly, or chicharrón de cerdo. To make a good and very crispy chicharrón colombiano, rub the pieces of pork belly with salt and baking soda, then place them in a saucepan with water, cook on the stove, and let it cook for a while. At the end, increase the heat, and fry them using their own fat.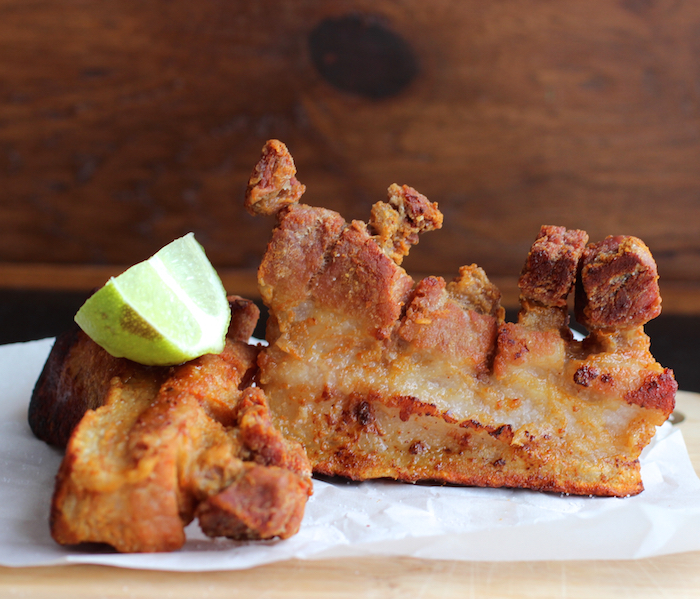 These Mogollas are best warm, fresh out of the oven. They are perfect for breakfast served with a cup of coffee or for el algo, after a satisfying siesta.
Buen provecho!