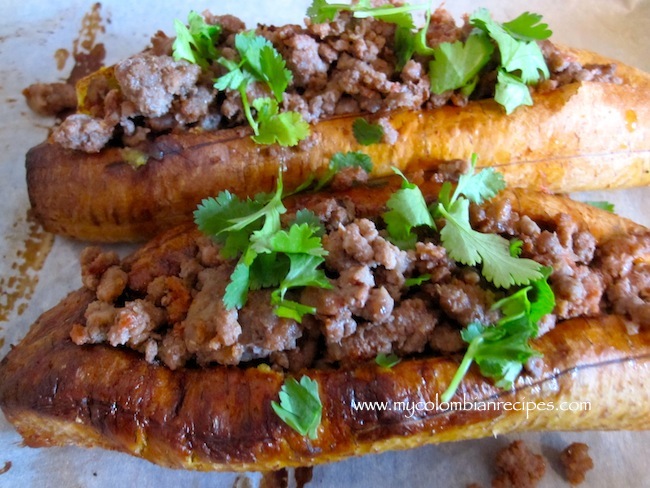 This dish is simple and easy to prepare, and most importantly, it is absolutely delicious! The sweetness of the ripe plantains works perfectly with the meat and spices.
This is a wonderful dish to enjoy on a weeknight. I love the way all the flavors come together in perfect harmony.
Buen provecho!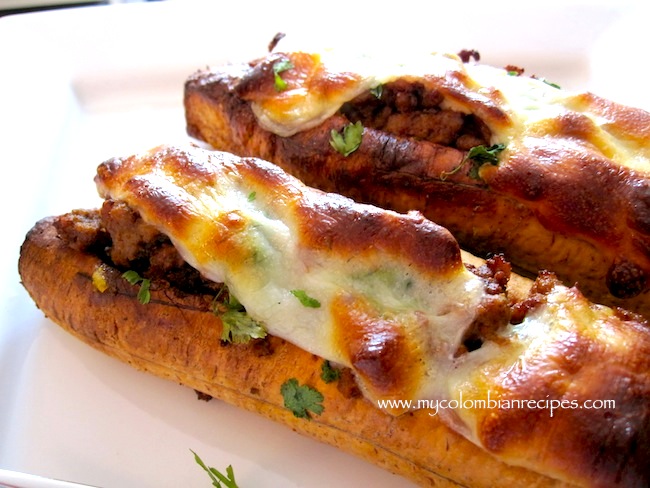 Ingredients
(4 servings)
2 tablespoons of melted butter
4 slices of mozzarella cheese(optional)
Fresh cilantro
Filling:
1/2 pound ground beef
1 tablespoon of olive oil
1/2 cup onion, finely chopped
3 garlic cloves, finely chopped
1 tablespoon of ground cumin
1 cup of tomato sauce
1/2 cup beef broth
Salt and pepper to taste
Directions
Pre-heat oven to 400 F.
Peel the plantains, place them on a baking sheet and rub them with butter.

Bake the plantains for 20 minutes, then turn them and bake for another 15 minutes or until golden on both sides.
Meanwhile, make the filling: In a medium pan, heat the olive oil over medium-low heat. Add the and cook onion until soft. Add the chopped garlic and cook until almost golden.
Add the cumin, salt and pepper. Add the ground beef, beef broth and tomato sauce. Cook for about 20 more minutes.
Remove the plantains from the oven, make a horizontal slit on the middle of each plantain, and stuff them with the meat mixture.
This was printed from MyColombianRecipes.com