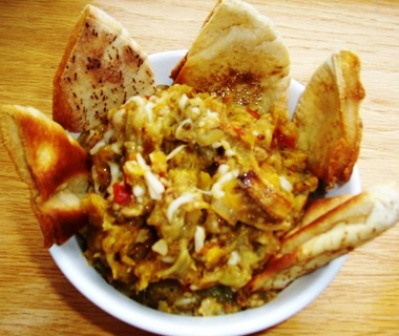 Boronia is comprised of mashed eggplant and ripe plantains. In Colombia this dish is served as part of the main course. I like to serve it as a dip with pita chips but you can serve it either way, but do serve warm.
Print
Ingredients
(10 SERVINGS)
2 largeripe plantains, peeled and diced
2 large eggplants, peeled and diced
2 tablespoons olive oil
Salt
Fresh ground pepper
3 tablespoons grated mozzarella cheese
GUISO
1 cup chopped tomato
1 garlic clove
1 tablespoon chopped onions
½ tablespoon vegetable oil
PITA CHIPS
3 pita breads
Olive oil
½ tablespoon cumin powder
Directions
Preheat oven to 350° F
Place the eggplant and plantain in a baking dish and drizzle with olive oil. Bake for 25 minutes. Meanwhile, in a medium skillet, heat the vegetable oil over medium heat. Add the tomato, onion, garlic, salt and pepper and cook stirring occasionally for 10 minutes. Set aside.
Place the eggplant and plantains in a food processor until they are combined, being careful not to over-process. The two ingredients only need to be blended together, not completely pureed.
Transfer eggplant and plantain mixture to a bowl. Add the guiso or tomato mixture and mozzarella cheese and mix well. Spoon to a serving bowl.
For the pita chips: cut the pita bread into wedges. Arrange the wedges on a baking sheet and brush them with olive oil. Stir together the salt, pepper and cumin powder and sprinkle them. Bake the pita wedges until crisp about 10 minutes and serve with the boronia.
If you like this page, you can say thanks by sharing it :-)