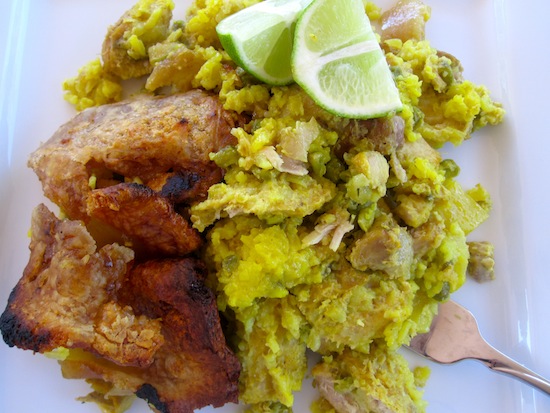 Lechona Tolimense is a traditional dish, originally from the Tolima department of Colombia, is often served on special occasions. This popular dish consists of a whole pork stuffed with rice, peas, potatoes and spices , cooked in a brick oven for about ten to twelve hours.
Lechona was Mamita's favorite Colombian dish and it was the main course at our New Year's Eve celebrations and at her birthday parties. The most important thing for Mamita was that the skin was reallly crispy.
Lechona Tolimense is a delicious meal. My mom has a recipe to make a small Lechona at home using pork skin and I want to share it with you. Sorry, but I could not afford a whole pig and besides, my vegetarian husband would have had a fit if I brought home a pig

Enjoy it!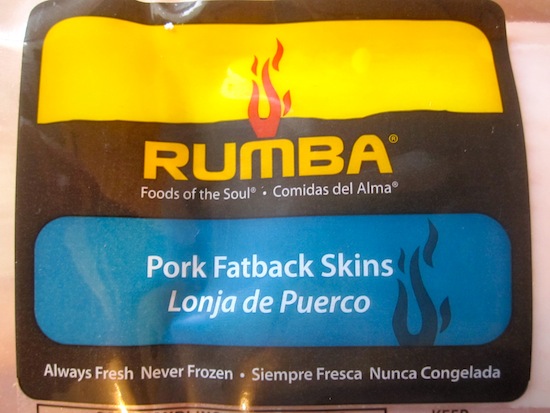 Print
Ingredients
(6 -8 servings)
2 pounds pork fatback skins

Filling

1/4 cup pork fat
3 scallions, chopped
2 garlic cloves, finely chopped
1 teaspoon ground cumin
1 teaspoon sazon goya with azafran
3/4 cup peas
1 1/4 cups cooked white rice
Salt and pepper
1 pound pork meat, cut into small pieces
2 potatoes, peeled and diced
Directions
In a medium sauce pan melt the pork fat. Add the scallions and garlic. Cook for about 3 minutes.
In a large bowl mix the pork meat, cooked rice, ground cumin, sazon goya, peas, potatoes, salt and pepper.

Add the pork fat and onion mixture to the bowl. Cover and place in the refrigerator for 1 hour.

o assemble: Rinse the pork fat skin under cold water and pat dry. Lay the pork fat skin on a work surface, top with rice mixture. Start rolling the pork skin to enclose the rice and pork mixture completely. Tie with kitchen string to hold the roll together.

Preheat the oven to 325 F.
Cover the lechona with aluminium foil and place on a baking dish. Bake for about 40 minutes uncovered and turn the lechona, cover again and cook for 30 minutes more.
Uncover and cook for 25 minutes more, to allow the skin to brown.

Remove from the oven and transfer it to a cutting board. Carve the lechona after it has rested for at least 15 minutes. Serve with arepa and lime wedges on the side.

Note: If you want to see pictures of a traditional lechona made with a whole pig you can visit Nika's blog here. If you are a vegetarian, I don't recommend the pictures.
If you like this page, you can say thanks by sharing it :-)