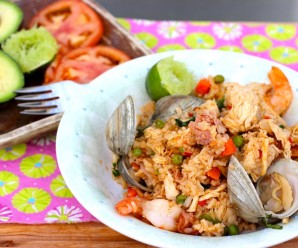 Arroz Mixto Colombiano (Colombian-Style Seafood, Chicken and Pork Rice)
Ingredients
2

whole chicken breast

bone in and skin removed

1

pound

lean pork cut into pieces

2

scallions

1

white onion

2

garlic cloves

½

tablespoon

ground cumin

Salt and Pepper

1

tablespoon

vegetable oil

1 ½

cups

uncooked long grain rice

2

cups

chicken stock

Salt to taste

2

tablespoons

oil

1

cup

finely chopped white onion

5

garlic cloves

peeled and crushed

1

red bell pepper

diced

1

green bell pepper

diced

1

tablespoon

tomato paste

1

teaspoon

ground cumin

½

teaspoon

achiote powder

3

Colombian chorizos

cooked and sliced

2

cups

of diced ham

½

cup

of fresh cilantro

finely chopped

1 ½

pounds

of your favorite seafood:

shrimp, fish, calamari, scallops, mussels, squid and/or clams

½

cup

frozen diced carrots

½

cup

frozen peas

Salt and pepper to taste

¼

cup

chopped fresh parsley
Instructions
Place the chicken breast, pork, 6 cups water and the remaining ingredients for the stock in a medium pot. Bring to a boil, cover and reduce the heat to medium low. Cook for 20 to 25 minutes. Turn the heat off and let the chicken rest in the pot for about 15 minutes covered. Let it cool, shred the chicken and pork, and set aside.

Heat the oil over medium heat in a saucepan, add the rice, stir until well coated and cook for about one minute stirring often. Add the broth and salt, bring to a boil until the broth is evaporated, reduce heat to low, cover and let simmer for about 15 minutes or until the rice is tender. Remove from the heat and set a side.

Heat the remaining oil over medium heat in a large sauce pan, add the onions, red bell pepper, green pepper and garlic, stir often and cook until the vegetables are tender, about 7 minutes.

Add the tomato paste, cumin, achiote powder, chorizo, ham, salt, pepper and half of the fresh cilantro. Cook for another 5 minutes, stirring often. Add the raw seafood, stir and cook for about 3 minutes.

Add the cooked shredded chicken, pork, rice, peas and carrots, mix well and cook until the seafood is cooked, about 5 minutes.

Add the remaining fresh cilantro, fresh parsley and serve.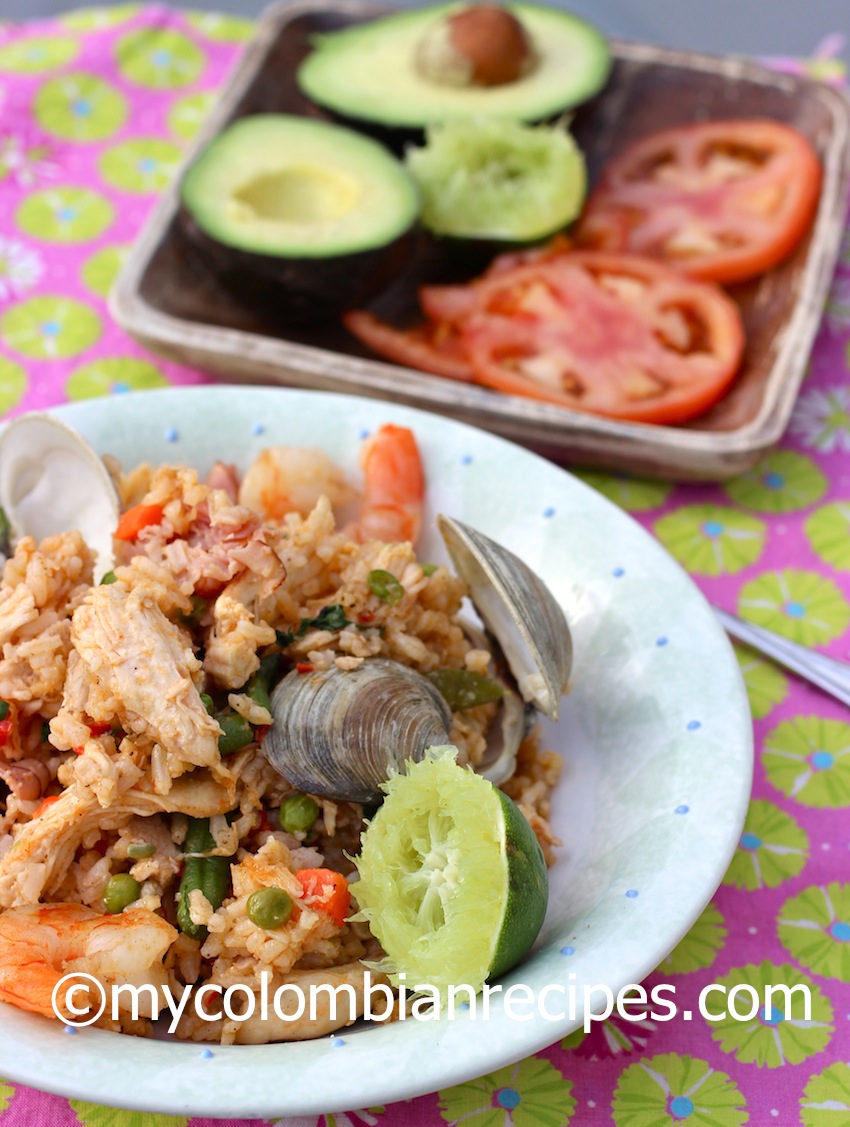 It's no secret that I love rice, so much so that I cook and eat rice everyday and can't even begin to imagine serving a meal without a side of Arroz. But hey, I'm a Latina, what can I say?
In Colombia and Latin America, we eat rice at almost every meal, in soups, salads, warm savory dishes and in desserts. There are endless recipes using this grain. Growing up in Colombia, lunch and dinner always started with opening up the lid of the rice cooker to reveal a steaming pot of fresh white rice. Rice was always the center of the meal, and it's hard to put into words the comfort I find in a rice dish.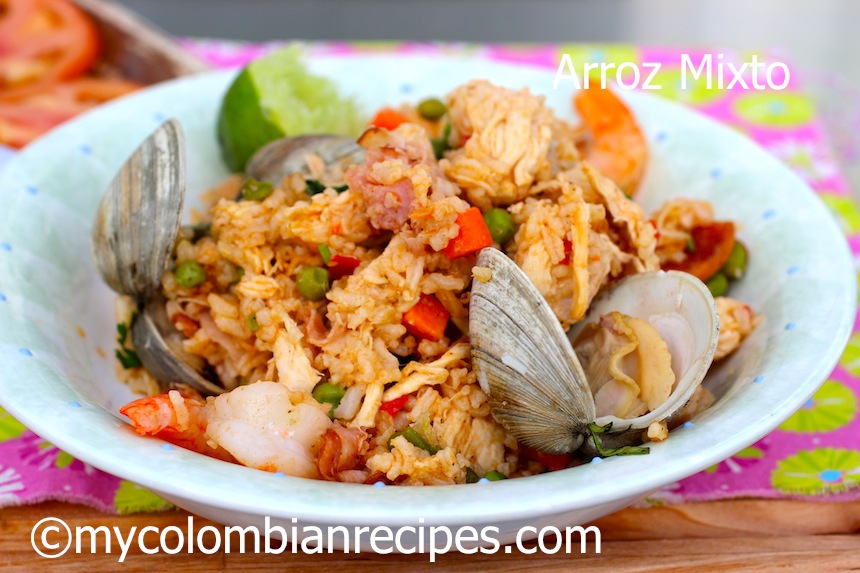 Now, let's talk about the rice recipe I am sharing with you today, Colombian-Style Seafood, Chicken and Pork Rice. This is a delicious and popular dish around Colombia and some people consider it the Colombian version of Spanish Mixed Paella. A difference between Arroz Mixto and Paella Mixta is the type of rice used. Arroz Mixto uses long grain rice, whereas Paella uses short grain rice. There are a couple of other differences as well. The Paella color comes from saffron and the Arroz Mixto color comes from achiote. Cilantro and cumin will never be seen in Paella, but we add those popular Latin ingredients to Arroz Mixto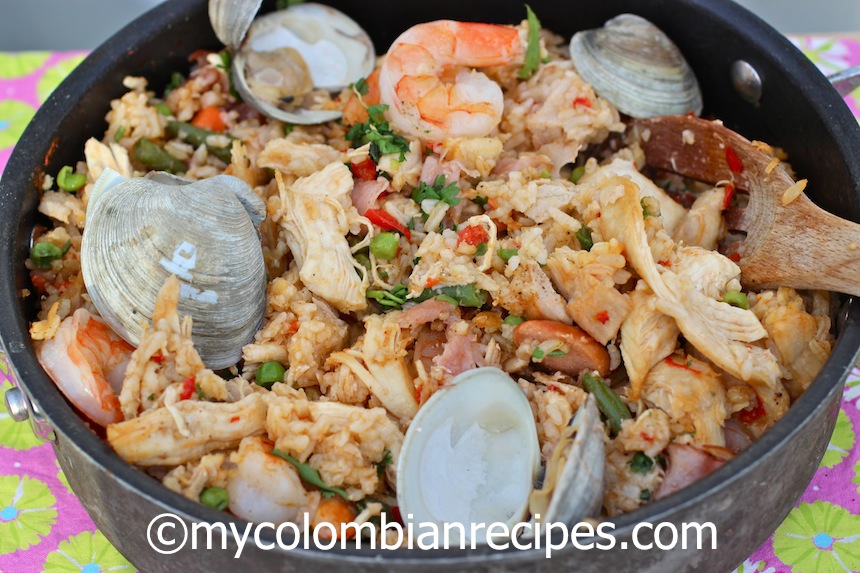 .
This time I used shrimp, clams, pork, ham, chorizo and chicken for my rice, but feel free to use your favorite kind of seafood and meat mixture for your recipe. Also, I like to serve this Colombian-Style Seafood, Chicken and Pork Rice with avocado, lime wedges, tomato slices and hot sauce (Ají Picante) on the side. This is a wonderful one pot meal with fantastic flavors and textures, perfect to feed a crowd. I hope you enjoy making and eating my Arroz Mixto Colombiano as much as I do. Buen provecho!