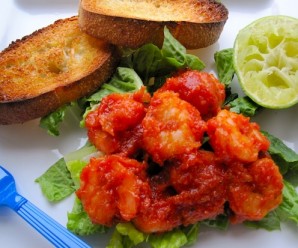 Camarones en Apuro (Colombian-Style Shrimp with Tomato Sauce)
Ingredients
1 ½

pounds

uncooked shrimp

peeled and deveined

½

teaspoon

onion powder

½

teaspoon

garlic powder

¼

cup

olive oil

⅓

cup

bread crumbs

1 ½

cups

tomato sauce

3

tablespoons

lime or lemon juice

Salt and pepper
Instructions
In a medium sauce pan heat the olive oil, add the shrimp, onion powder, garlic powder, stir and cook for about 5 minutes.

Add the bread crumbs, salt and pepper and stir well. Add the tomato sauce and lemon juice. Cook for about 3 more minutes.

Stir and serve over lettuce.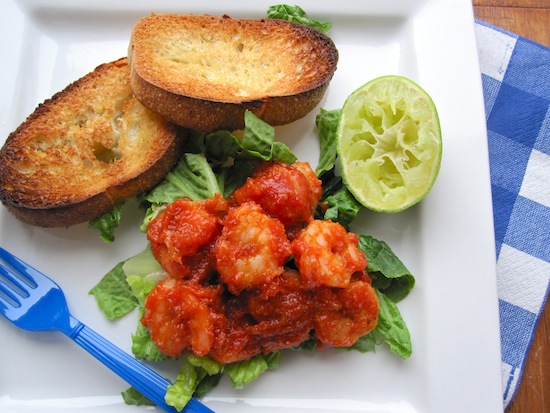 Camarones en Apuro is a traditional Colombian dish from the Coast of the country and it is a simple and easy way to cook shrimp. It's a wonderful and delicious appetizer to serve when having company.
In Colombia, it is usually served on a bed of Romaine lettuce with saltine crackers and lemon or lime wedges on the side, but I served mine with crostini and I loved it!
Enjoy!
On another note, Cheri, a friend of my husband, recently started a recipe blog called MeatLessDays.com. My husband, being a vegetarian, has been emailing me links to her recipes. He is very excited, especially since I regularly tell him that I don't know what to make him that's vegetarian 🙂 Why not check out the site for yourself? I have also added a link to her site on my Links page for future navigation.