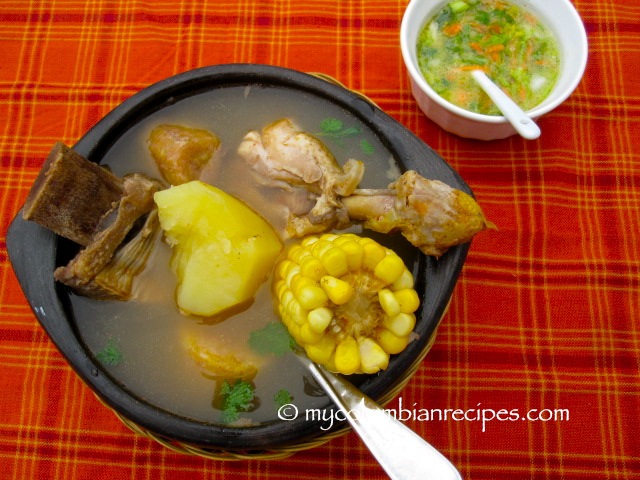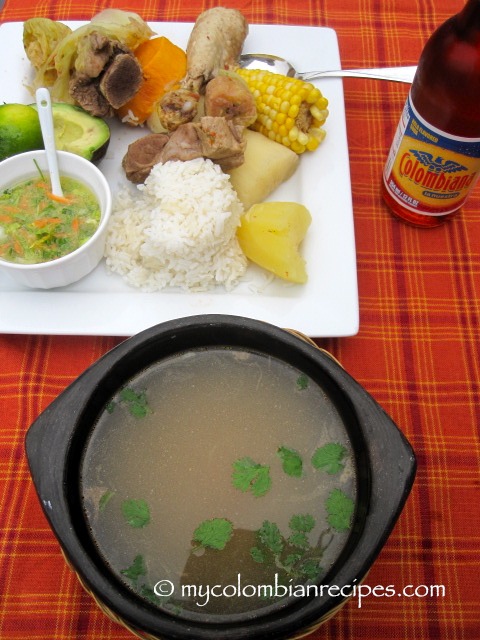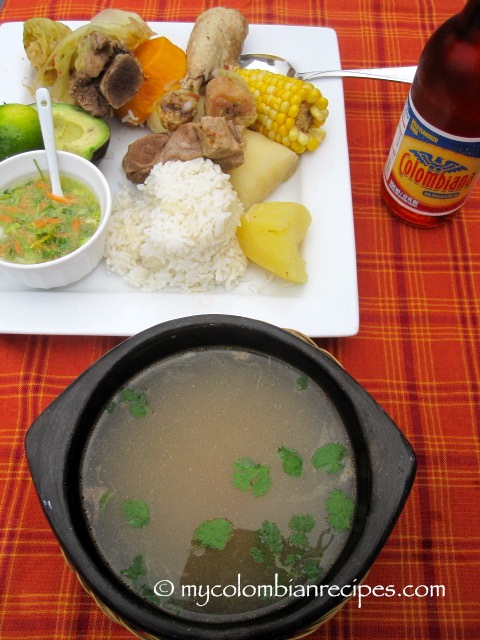 Sancocho is a hearty soup made with meats and vegetables, in a broth usually flavored with herbs (cilantro or parsley), combined with achiote, garlic, onion, scallions and bell peppers. There are many variations of Sancocho, dependent on the region of Colombia. This dish warms the soul, heart and body, and is exactly what I expect to taste when I am craving a tasty, comforting, hot soup.
This is no Monday night, throw-together dinner, Sancocho is an event in a bowl!
In some Colombian homes, this is the typical Sunday meal, perfect for enjoying with your family.
Some variations of Colombian Sancochos include, chicken, fish, beef, oxtail, pork  and ribs, amongst others. The recipe I am sharing with you today is Sancocho Costeño (Atlantic Coast Sancocho). Serve it with white rice, aji, avocado and lime on the side.
Buen provecho!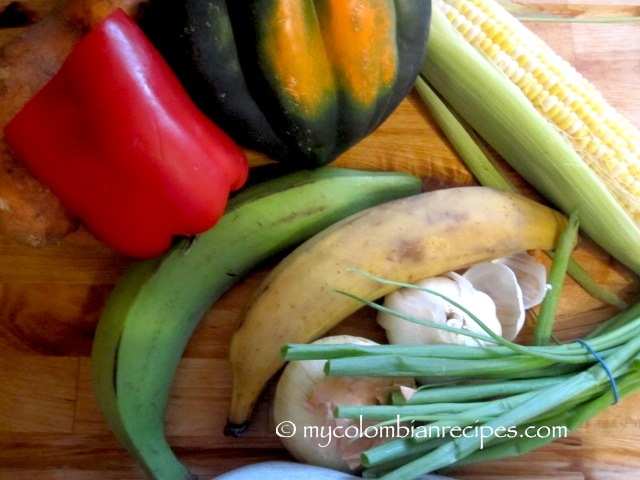 Ingredients
(About 6 to 8 servings)
3 ears fresh corn, cut into 3 pieces
12 cups of water or more if needed
1 cup of aliños
1 big whole chicken
2 pounds of short ribs
1 pound of pork ribs
Salt and pepper
2 green plantains, peeled and cut crosswise into 2 inch pieces
1 ripe plantain, peeled and cut crosswise into 2 inch pieces
2 chicken bouillon cubes
6 medium white potatoes, peeled and cut in half
1 pound frozen yuca cut into big pieces
2 cups of pumpkin, cut into pieces
1/2 small cabbage, cut into pieces
1/3 cup chopped fresh cilantro
Directions
In a large pot, place the beef ribs,pork ribs, chicken, corn, aliños, chicken bouillon, salt and green plantain. Add the water and bring to a boil, then cover and reduce heat to medium and cook for about 45 minutes.
Add the potatoes, ripe plantain, yuca, pumpkin and cabbage. Continue cooking for 30 more minutes or until the vegetables are fork tender. Stir in the cilantro.
Taste and adjust the seasoning. Serve in large soup bowls, dividing the chicken and vegetables evenly.
This was printed from MyColombianRecipes.com