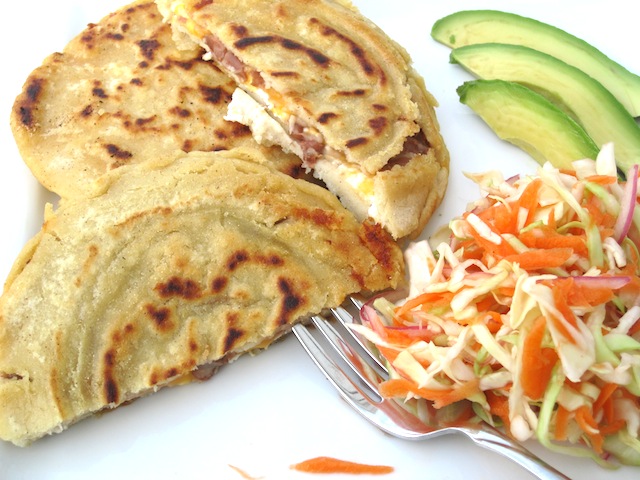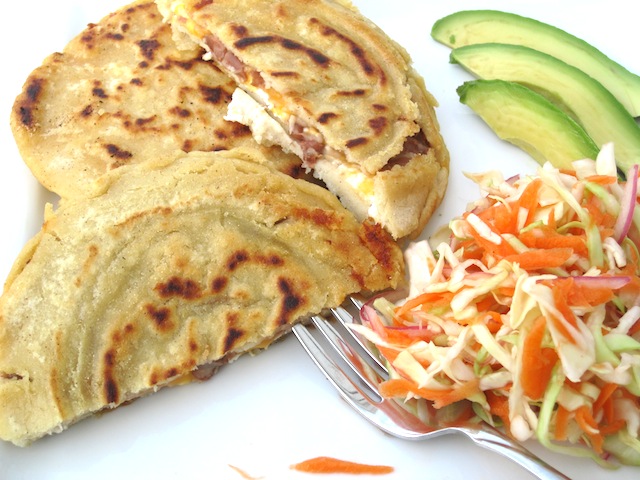 My friend Joan from Foodalogue is going on a virtual culinary tour "South of the Border" and the first stop was Mexico, so I joined her with these Chicken Tacos with Tomatillo Salsa.
This week we are going to El Salvador and I am joining her with their national dish, Pupusas. I didn't know anything about Salvadorian cuisine when Joan announced the itinerary, so I started searching for information about their culture and food. I learned that some Salvadorian dishes are similar to some Colombian traditional dishes. Such similarities can be seen in dishes such as fried cassava and fried sweet plantains.
Pupusas are a thick tortilla made with masa de maiz, which is also used in Mexican tortillas and tamales. Traditionally, pupusas are stuffed with refried beans, Salvadorean cheese, chicharron( fried pork belly), loroco and other fillings like chicken, shrimp and more. They are served with curtido, a cabbage and carrot salad with a vinegar dressing. I made beans and cheese pupusas for my vegetarian husband and I made chicharron, beans and cheese pupusas for myself and they were both delicious with the curtido. I didn't have Salvadorian cheese, so I used a mix of Queso fresco, mozarella and cheddar cheese.
Visit Joan at Foodalogue for the itinerary and join us on this virtual culinary tour.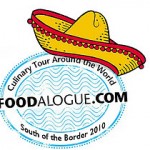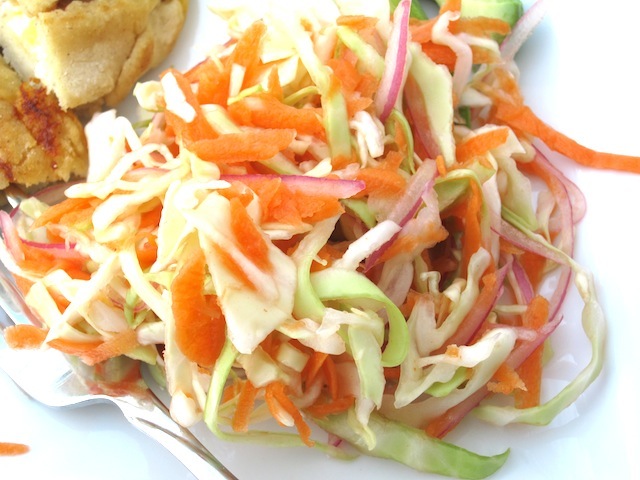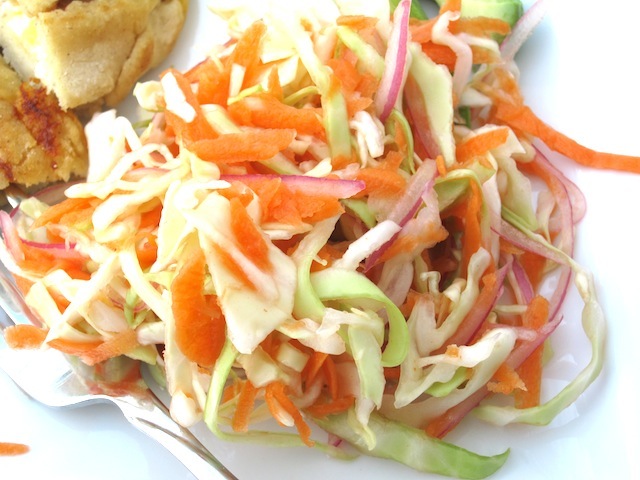 Curtido:
Ingredients
1/2 head green cabbage shredded
1 carrot, shredded
1/4 teaspoon finely chopped habanero pepper
1/2 red onion, thinly sliced
Salt and pepper
Juice of 1/2 lime
1/2 cup white vinegar
1/4 cup warm water
Directions
Combine all the ingredients in a medium bowl and mix well. Place in the refrigerator for 4 hours or overnight.

Pupusas
2 cups masa harina
1 1/4 cups warm water
Salt
1 tablespoon vegetable oil
Mozarella cheese
Queso fresco
Cheddar cheese
1/2 cup chopped chicharron or cooked bacon (if using)
For the Refried beans:
1 can (oz) pinto beans
1 tablespoon vegetable oil
1/4 cup chopped onion
1 garlic clove minced
1/4 teaspoon ground cumin
Salt and pepper
1/4 cup water
Directions
To make the beans:
Heat the oil in a sauce pan and saute the onions for about 5 minutes or until translucent, add the garlic and cook for 2 minutes more.
Add the beans, water, ground cumin, salt and pepper. Cook for about 10 minutes, stirring often with a wooden spoon.
Mash the beans using a potato masher and stir well. Set aside.
To make the pupusas:
Combine the masa harina, warm water and salt, mixing thoroughly. Let mixture stand for five minutes.
Knead with your hands for about 3 minutes, moistening your hands with water as you work.
Form 8 small balls with the dough. Place each ball between 2 plastic bags and with a flat pot cover, flatten to ¼ inch.
Remove the top plastic of 4 tortillas, sprinkle the cheddar cheese, queso fresco and mozarella cheese over the bottom of each tortilla. Add the refried beans evenly on top of the cheese, then top with chicharron. Top with another tortilla. Press the borders to close the pupusa so the filling does not come out.
Add the oil to a nonstick pan over medium heat. Place the pupusas in the pan, and cook about 3 minutes on each side, until a crust forms or they are golden brown. Serve warm with curtido.
This was printed from MyColombianRecipes.com