This pineapple flan is creamy, sweet and delicious. An easy dessert recipe to enjoy any day of the week. Flan is a popular dish in Spain and Latin America.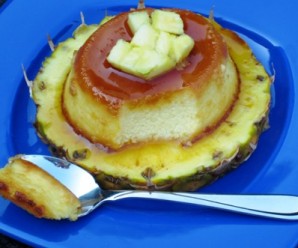 Pineapple Flan (Flan de Piña)
Ingredients
1

cup

sugar

¼

cup

water

5

Whole eggs

1

can pineapple chunks without the syrup

12 oz

2

egg yolks

1

can sweetened condensed milk

1

cup

heavy cream

¼

teaspoon

coconut extract

Fresh pineapple for garnish
Instructions
To prepare the caramel, put 1 cup of sugar in a small pot with ¼ cup of water. Bring to a boil over high heat. Stir once and reduce the heat to medium and cook about 5 minutes or until the syrup turns a caramel color.

Immediately pour an equal amount of the caramel into each ramekin or any oven proof mold you want to use. Swirl each dish to coat the base with the caramel, work fast as the caramel will harden quickly as it cools. Place all the ramekins in a large roasting pan and set aside.

Preheat the oven to 350° F.

In a blender mix the pineapple chunks, heavy cream, eggs and egg yolks for 2 to 3 minutes or until smooth. Add the condensed milk and coconut extract and mix for 1 more minute.

Carefully pour an equal amount of the flan mixture into the caramelized ramekins in the roasting pan. Then add hot water to the roasting pan, not to the ramekins, until the water comes half way up the sides of the ramekins.

Place the roasting pan in the oven and bake for 1 hour or until a knife inserted in the center of the flan comes out clean.

Remove from the roasting pan and cool for at least 30 minutes. Then cover and refrigerate for at least 2 hours.

To serve, carefully run a knife around the edge of the ramekin, cover with a serving plate, flip it over and gently remove the ramekin allowing the caramel run over the sides. Add some chopped fresh pineapple on top and serve.
Notes
*You can keep this pineapple flan in the fridge up to 3 days covered with plastic wrap.
*I personally don't like to freeze flan, the texture is not the same.
Nutrition
Calories:
458
kcal
Carbohydrates:
66
g
Protein:
7
g
Fat:
20
g
Saturated Fat:
11
g
Polyunsaturated Fat:
2
g
Monounsaturated Fat:
6
g
Trans Fat:
1
g
Cholesterol:
256
mg
Sodium:
73
mg
Potassium:
336
mg
Fiber:
3
g
Sugar:
62
g
Vitamin A:
968
IU
Vitamin C:
19
mg
Calcium:
87
mg
Iron:
1
mg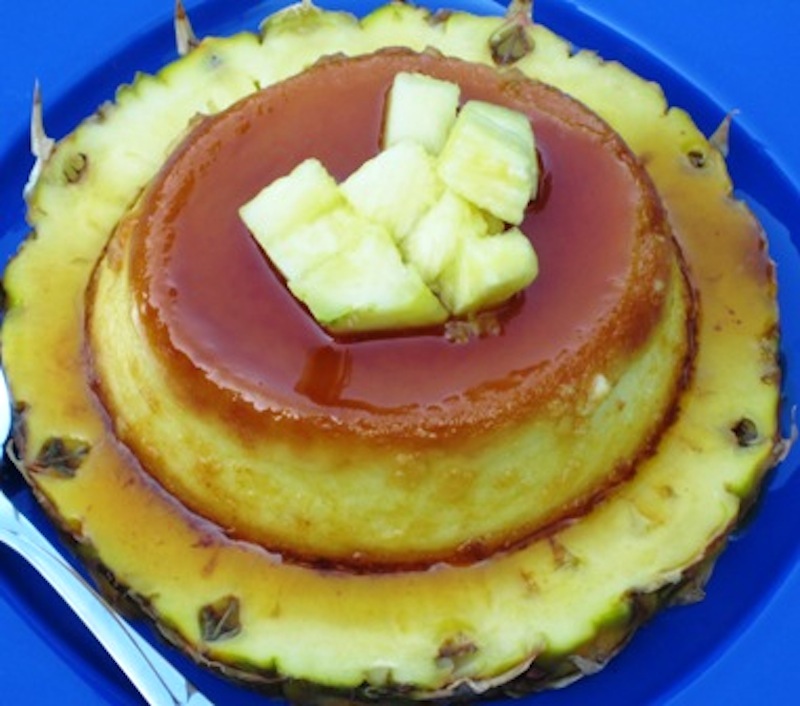 What is flan?
This delicious dessert is a custard with caramel very popular in Spain and Latin America. There are different variations and flavors of Flan depending on the country and cook. Flan de Piña or Pineapple Flan is another traditional Colombian flan. I tried to make it with fresh pineapple but the flan didn't have the right consistency, it was too watery. So I used a can of pineapple chunks instead and the flan came out creamy and just right.
Yo are going to need sugar and water to make the caramel, and to make the flan you need eggs, canned pineapple chunks, sweetened condensed milk, heavy cream, coconut extract and fresh pineapple for garnish.
I love flan and hope you enjoy this easy recipe too.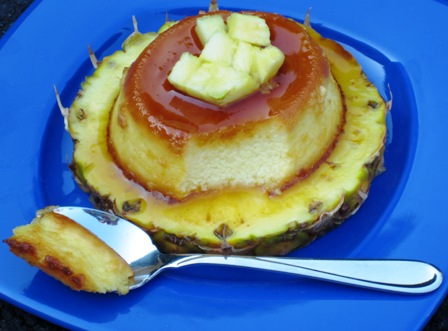 5 Flan recipes you may want to try: